One of the best ways to improve you testing expertise and to become an authority in the field of testing is through training and international certifications.
Progideo provides ISTQB accredited training courses for all profiles involved in software testing. Whether you are developing software (as a tester, test manager, business analyst, developer or project manager) or you need to validate software as a customer or as a consultant, these training courses will give you the means to apply all the necessary test-related concepts and to implement the most effective techniques and standards in the field of software testing.
These accredited training courses will give you access to the ISTQB certifications (both the foundation and the advanced levels).
Progideo training courses are compliant with the latest standards set by the ISTQB.
Involving ISTQB-certified professionals on an IT project is key to a better management of the test and validation phases, thus providing a better cost and quality control.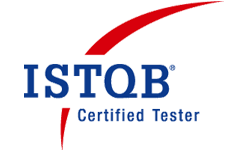 Foundation Level
The foundation level is for everyone involved in software testing. Training sessions may be organized for decision-makers, managers, testers as well as software developers.
Topics covered by the foundation level course include the basics of software testing, testing during the life cycle, static testing, test cases design, test management and an introduction to testing tools.
A final exam validates the training and certifies you as an ISTQB Foundation Level Testing Professional.
Price of training (3 days): 6,000.00 MAD VAT per person
Price of e-learning training : 300.00 EUR / 3,000.00 MAD VAT per person
Examination fee: 2,100.00 MAD VAT per person
Training sessions:
From 07/09/2018 to 09/09/2018
From 23/11/2018 to 25/11/2018
Agile Tester
Agile testing is a relatively new approach to software testing that follows the principles of agile software development as outlined in the Agile Manifesto.
A tester on an Agile project will work differently than one working on a traditional project. Testers must understand the values and principles that underpin Agile projects, and how testers are an integral part of a whole-team approach together with developers and business representatives.
There is a lot of confusion concerning agile testing – which means there's an educational opportunity as well. The Agile Extension will give the tester the knowledge to be part of agile testing teams and achieve high performance.
Topics covered by the tester Agile course include the Fundamentals of Agile Software Development, the different agile approaches, the Differences between Testing in Traditional and Agile Approaches, Testing in Agile Projects, roles and skills of a tester in Agile Projects, Agile testing techniques and methods, assess product quality risks within an Agile project, estimate testing effort based on iteration content and quality risks, tools in Agile Projects.
A final exam validates the training and certifies you as an ISTQB Agile Tester.
Price of training (2 days): 4,000.00 MAD VAT per person
Examination fee: 2,100.00 MAD VAT per person
Training sessions:
From 20/10/2018 to 21/10/2018
Advanced Level
The advanced level training courses and certifications are divided into three categories: "Test manager", "Test Analyst" and "Technical Test Analyst".
Each of these categories is covered by a three to five days training and a specific certification. To be eligible for the advanced level courses and certifications, you must first be foundation level certified and have at least 18 months of practical experience.
Please contact us if you are interested in advanced level training.
Exam sessions
Exam sessions are regularly organized for both ISTQB and REQB certifications.
Depending on demand, some extra sessions are often added.
To register, email to contact@progideo.com.
Next exam sessions:
15/09/2018, Casablanca
20/10/2018, Casablanca
17/11/2018, Casablanca
15/12/2018, Casablanca